Team
consilia cct: create culture together stands for interdisciplinary, networked and creatively designed services. Together with interculturally experienced experts and our various cooperation partners, we have been working for many years on a project basis in precisely the ways that determine professional everyday life today. Transparency, appreciation, liveliness, humility, structure, pragmatism and flexibility characterize us and our work.
Prof. Dr. Kirsten Nazarkiewicz
Stakeholder consilia cct
"Life is lived forward and understood backward", is a famous quote from Kierkegaard. That is why I know today that I studied sociology, economics and psychology in Frankfurt and Giessen to understand what collective influences people are exposed to. At that time, you could not take Intercultural Communication as an academic subject and so I took the school of life as a source of knowledge. For more than a decade, I flew around the world as a flight attendant and cabin manager to finance my studies and to get to know cultures and life worlds. During this time, I had impressive experiences with life lessons and worked in heterogeneous teams, both of which had a lasting impact on me.
And the urge to do research continued. I have always been interested in how adults, teams and organizations learn and develop. My master's degree in adult education and further training in organizational consulting and coaching have sensitized me to this. Equipped in this way, I became self-employed in 1996 and applied a variety of methods and processes, from accompanying scientific research to developing mission statements and facilitating large groups. In the meantime, I expanded the consilia team and brought "the world" to me: colleagues speaking different mother tongues, cultural experts, like-minded people. With Gesa Krämer I was lucky to find an ideal counterpart and my permanent business partner, and we have been working together in a GbR ever since.
Throughout all this, I have followed my enthusiasm for a scientifically reflective approach. Research projects, teaching assignments, and publications have always accompanied my path. This led to the professorship for Intercultural Communication at the University of Applied Sciences Fulda in 2017.
Now I have the great pleasure to combine everything as a senior coach, intercultural consultant and process facilitator: science, my enthusiasm for cultures, reflection on global and digital working, pedagogy, and developing people and organizations.
Would I have thought that 40 years ago? Never. When read backwards, however, it seems like a plan – see Kierkegaard.
Gesa Krämer
Managing Director consilia cct
Personally, I love bringing people together and discovering new things. Even as a teenager, I led language trips for children and still like to design creative fields of experience and share them with my family, among others. Throughout my professional career I connect worlds: as a coach and therapist for 20 years in my own practice; before that as head of university marketing; as a project manager for coaching/ training in technical sales & service for Europe; and as a coordinator of B2B marketing in the automotive industry.
Most of my clients and participants say that I respond precisely to their needs and present topics in a lively, well-founded manner and with humor. I successfully convey even the most difficult of topics clearly, always manage to change perspectives and watch carefully and closely – and with enthusiasm.
This spectrum from which I draw is based primarily on my M.A. in Intercultural Communication, and through my training and further education as a body psychotherapist, psychotherapeutic alternative practitioner, and certified trauma therapist, as well as an NLP Master. This combination, which may seem unusual, also results from my own experiences with health and from my urge to do research: I want to understand causes, backgrounds and connections.
In addition to coaching and training, I pass on my experience as a lecturer for intercultural communication, didactics, etc. at various universities and as a book author. I volunteer as a supervisor for Sea-Watch to provide "support to the supporters".
In my daily work, I am frequently concerned with online didactics, virtual leadership and the implementation of diversity projects, in addition to coaching, supervision and facilitation. I prefer to work in different languages; besides German I speak English, Spanish and French fluently.
My deep conviction is: "New ideas come through open doors". I am therefore always curious, what topics, tasks or challenges are waiting behind the next door.
Holger Finke
Back Office consilia cct
In the unshakeable confidence that even a slalom racer ultimately moves inexorably toward a finish line – despite the permanent changes in direction characteristic of his hip-swinging locomotion – I chose a consistent zigzag course for my professional career: After a foreign language-centered high school diploma, I immersed myself in French culture and literature (literary studies) for a semester abroad before a fascination with the natural sciences and the miraculous workings of the human body brought me back to Germany to study nutritional sciences. I was still struggling with biochemical flow equilibria and business behavior models to qualify for the ominous title of "Diplom-Ökotrophologe" (certified ecotrophologist), when I took a daring leap that catapulted me into the enticing fresh snow of sociology. There I was involved in micro-sociological research projects on topics such as communication in the airplane cockpit, virtual collaboration, and systemic constellation work.
With another unexpected swing of the hips, I began working at consilia cct, where my career path led from formatting recalcitrant Word and PowerPoint documents to taming no less unruly printers to providing organizational support for seminars and events. Today, all of a sudden, I find myself t back office, IT and accounting department united in one person. I am happy to admit that in these roles I can uninhibitedly live out my baser virtues: the joy of juggling words and numbers as well as the tenacious struggle with technical mysteries of non-functioning, while interacting with inspiring people – and all this in an environment that focuses on appreciation and care, challenge and encouragement, personal development and a supportive community.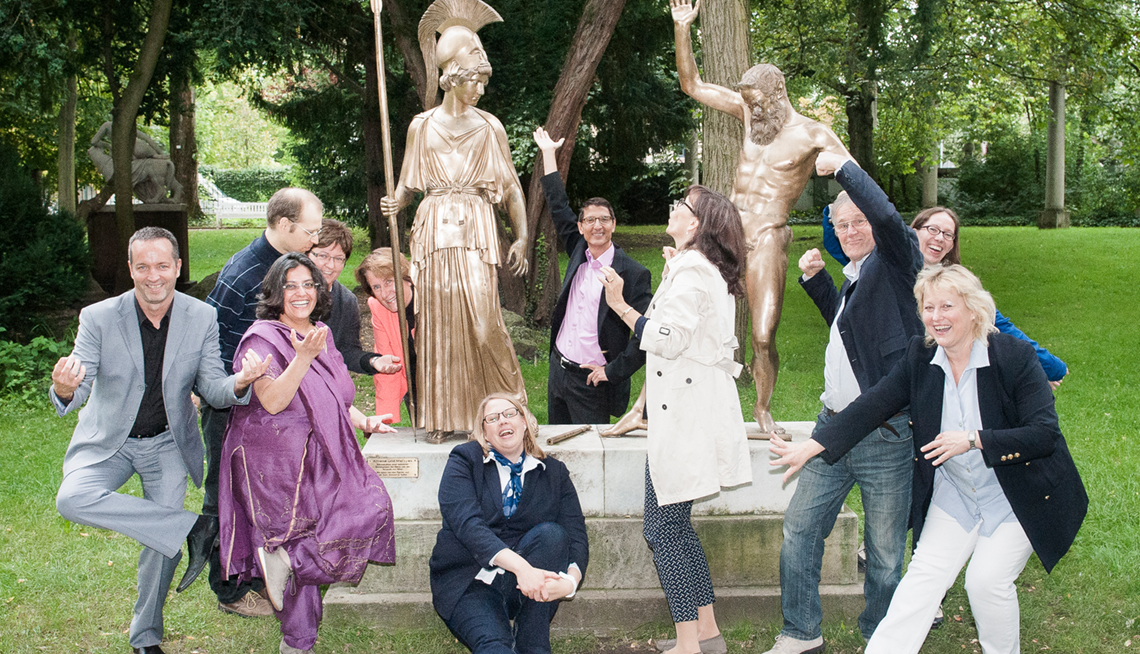 Cooperation partners
consilia cct works together with strong network partners on a contractual basis. We are united by many years of experience in cooperation, as well as by the shared criteria we apply to our work.